WELCOME TO THE EARLY CHAMBER OF COMMERCE
The mission of the Early Chamber of Commerce is to stimulate economic prosperity and to foster a vibrant community. We believe by partnering with local businesses we build strong relationships in the community to maintain a robust quality of life in Early, Texas and the surrounding areas.
Mark Your Calendar!  ------------------------------------------------------->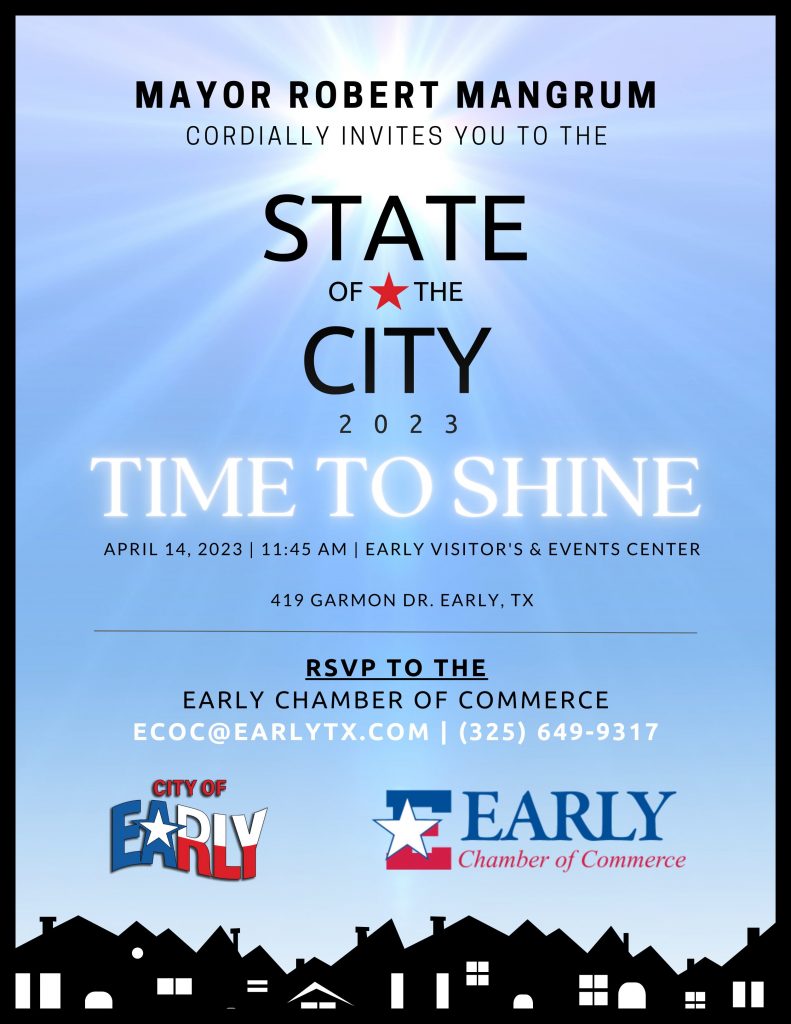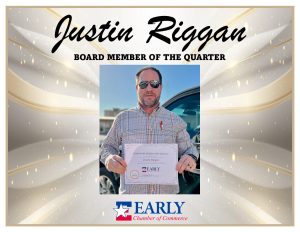 Board Member of the Quarter
Congratulations Justin Riggan for being nominated as the Board Member of the Quarter for the Early Chamber of commerce! Justin not only represents The Wells Team-Keller Williams Synergy, but he is also the President for the Early Chamber. He has done an outstanding job! He has shown his dedication and commitment to the Chamber's mission to assist its members with business development, promotion of economic growth and bringing awareness to the Early and surrounding community.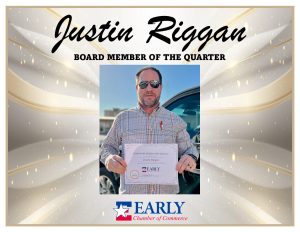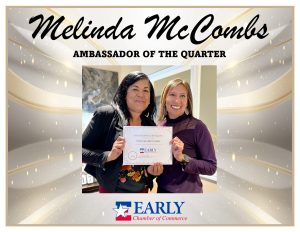 Ambassador of the Quarter
Congratulations Melinda McCombs for being nominated as the Ambassador of the Quarter for the Early Chamber of Commerce! Melinda serves as the Early Chamber's Ambassador Vice-President. She represents Mills County State Bank of Early and is always ready to serve where needed. Her dedication to connect with others makes her an asset, not only to the Early Chamber, but to the business community as a whole.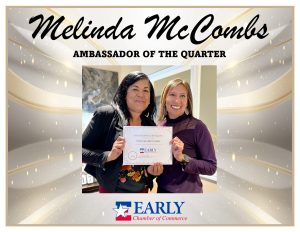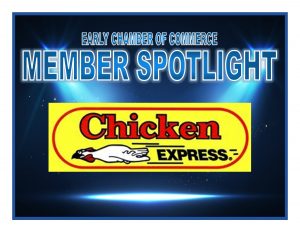 Chamber Member of the Week!
Our restaurant is family owned and operated by Brian and Hailey Hine. We strive to serve the best comfort food in Brown County. Our entrees include chicken tenders, bone in chicken as well as fried fish! We offer a variety of side items and our famous sweet tea. Whether you are looking for a quick meal or a bulk order for a large gathering we look forward to serving you.
Location: 221 Early Blvd, Early, TX 76802 ~ Phone: (325)643-3100 ~ Website: www.chickene.com
Do you have a business you would like for us to spotlight? If so, follow the link below to submit your business!